Summer is coming.
It is going to get
HOT

.
We will get lots of questions about keeping our dogs
comfortable.
One of those questions is: "
Is ice water or ice cubes OK for my dog?
"
YES and NO
.... Well at least that is a balanced answer... Like many subjects there are always exceptions to everything. So it is with ice water and ice cubes...Search on the internet about giving your dog ice water or ice cubes, you'll find a lot of conflicting information.
I know plenty of dog owners that do give ice water and ice cubes on hot days. In fact they are given ice cubes all year long. I was surprised by the number of warnings issued about risks. So before the ice melts I want to get that out of the way. So I have decided to give you my opinion..."Ice cubes and cold water are fine for pets all year, as long as it's done with some common sense,"
First here is what others have commented from various sites just to let you understand some of the conflict...
Disclaimer NOTE:
No names are used

because I did not contact these persons for their permission to use their names.

These came from several different websites. These comments are from 2007 to summer 2014. The are used to demonstrate the confusion and conflicts that are still out going on.
Anonymous 1 said...

This in another Internet myth! If you do enough research, you will find that ALL the info on NOT giving dogs ice/ice water, all stem from that single story of the dog owner at the dog show. No other information other than that story will back up those claims. It is fine to give your dog ice :)

Anonymous 2 said...Just in case, right or wrong, myth or fact. Regular water, shade and cool towels in the groin, are good enough for me and my dog. I don't want to be in the position where I have to say, WHY DID I DO IT? You guys fight it out. I will make a simple change, no big deal.

Anonymous 3 said...Largely depends and I am not an expert heat/ humidity, vs temp of the dog. But I will say, the average vet isn't used to these problems coming to and fro their door. But to Anonymous with Noah, you are on a good track! There is no worse thing than playing it blindsided. Play it safe within reason, love and watch your dog: you'll be fine. My clues: never leave your dog outside if it is above 90 or below 30.

Anonymous 4 said..I have an idea. Stop trying to be a vet and stop giving people faulty information. People, if you are really concerned about what temperature water is best for your dog. ASK YOUR VET. As RESPONSIBLE dog owners you should have a VET from whom you get medical advice and care and should not simply rely on false chain emails and "animal lover" blogs. Sure, it's nice to have commonplace people to talk to about your pets and get advice from, but when in doubt ask a VET. And stop spreading hearsay because you think you're and animal activist, unless that hearsay has more backing than a chain email that describes ONE incident and most likely isn't true to begin with. (In reference to a blog that started this confusion.)

Anonymous 5 said...Re: Beware giving ice water or feeding ice cubes! I totally agree. There are many benign things which could induce bloat in a particular dog, but would not be harmful to most dogs. I can't see the comparison of falling in ice cold water vs drinking ice water or eating ice cubes. If the Dr wanted to make a comparison it would be to humans drinking ice cold water and eating ice cubes, of which I know happens probably daily without issues.
A dog being plunged in cold water would be more comparable to a person falling in ice cold water. Of course some dogs fair better in cold water then others and of course then people.

Anonymous 6 said...Our vet says its OK to give the dog ice cubes to mess with. In the wild don't animals drink out of ice cold streams / lakes, eat snow, etc for water ? People drink ice cold drinks after running around. Working dogs will regularly jump into very cold water, which I realize is external, but still ....

Anonymous 7 said...I'm sort of confused. How do you define ice water? Room temperature water with ice cubes in it? Water cold enough to start developing ice crystals? Or water that's been refrigerated? I ask this because Basil won't touch ice or water with ice in it, but I give him water from our filtered water pitcher, which is refrigerated.
Anonymous 8 said...I have a 17 year old Irish Setter; 18 in March. He has had ice water every minute of every day, summer or winter. He's almost 18! There's something other than ice water that's causing these things to happen. What do "animals" do in the winter? They drink ice water, eat snow…there's something else going on…I Lived on a farm and all the other animals had ice water all year round, or right out of a very cold pond/lake fed by ice cold springs…and my dog eats raw beef, and occasionally raw fish, and always we share a can of Salmon the first of every month…he's close to 18 years old. Something else is happening…

Anonymous 9 said... But like a lot of things there are some risks you should be aware of. The main risk besides the obvious one of chocking that is written about is a Bloat. But after reading up on this I think that this statement from Dr. Tina Wismer, medical director at the ASPCA's Animal Poison Control Center, in an interview with ABC News "Dogs do not bloat from drinking ice water on hot days."

We ask any of our friends that are Veterinarians or vet techs to weight in and help clarify this subject.

(Factors that may contribute to an increased risk of bloat include "feeding only one meal a day, familial history of bloat, rapid eating, moistening dry foods, elevated feeders, restricting water before and after a meal, dry diet with animal fat in first four ingredients" and sometimes age.)

Okay with all of that out of the way would you like some great ideas on what to put into those ice cubes?
From our BTN article files...
Watermelon Yogurt Ice Cube Treats
This recipe for dog treats also makes a nice smoothie drink. Serve as is for a hydrating treat, or to secretly add liquid dog vitamins and supplements to your dogs daily diet.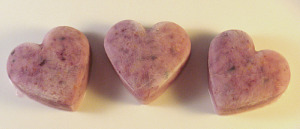 Ingredients:
4 cups plain yogurt, low or fat free
1 ripe banana
1 cup of blueberries
3 tbsp peanut butter, natural and salt free is preferred
1 tsp vanilla extract
Instructions:
Stir all of the ingredients together into a medium bowl.
Pour into a blender, and puree until smooth.
Pour the smoothie into ice cube trays and freeze.
Storing - This recipe for dog treats, if frozen into smoothie pops, will last for 6 months or more in the freezer. You can keep the smoothie in it's liquid form, but keep it refrigerated for about a week.
Yield - Using a 1/2 inch ice cube tray, you will make 32 PB & J Smoothie dog treats.Tips & Techniques
Peanut Butter - If you use natural peanut butter, as

the recipe

calls for, it will be cold from the refrigerator. You will need to warm it up first, before adding it to the smoothie. Let the jar sit on the counter while you measure the other ingredients. Or, measure the amount and warm it in the microwave for 5 seconds.
Berries - Substitute other

berries

, like strawberry, raspberry or a mixed variety. Or, if fresh berries are not in season, you can use frozen berries.
Ice Cube Trays - You can find an endless variety of seasonal ice cube trays. Pictured above I used a heart shaped tray for my lovey-dovey taste testers. Match the tray to the season, or to the theme of your next dog party.
For Humans - Your two-legged family members may want a taste. These

homemade dog treats

are quite tart, so most humans may not care for it. Add sugar, honey, or other natural sweetener to taste, and you can enjoy these Peanut Butter and Jelly smoothie pops, too!
You will want to make this recipe for dog treats if your dog needs liquid dog vitamins and supplements, since they will not easily be detected. Or, make this recipe for a refreshing treat when it's hot, or just for a change of pace from the normal dog biscuit recipe. You'll love the ease of preparation, and your dog will love the taste.
source and more recipes:.dogtreatkitchen.com
Do you have a frozen ice cube treat you would like to share with us?